Contact & product information
Studio Olaf Stevens
Eind 40, NL-4201 CR
Gorinchem, Nederland
E-mail: studio-os@pm.me
NL: 00 31 654 910 893
SE: 00 46 730 317 214
Luxeporselein is an exclusive On-Line catalog.
A catalog that enables you to view the highly exclusive and handmade HautsCouverts® collection online.
For the Terms & Conditions click here (voor de algemene voorwaarden klik hier ).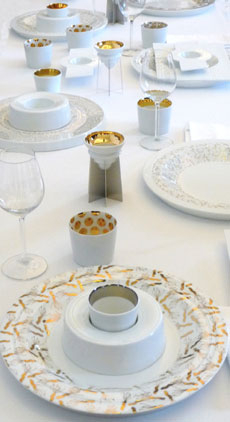 Our porcelain studio in Limoges, holding the middle between an "atelier" and a small production unit, is since decennia specialized in 1400ºC porcelain dur treasuring traditional techniques and a focus on innovation.
If we state "hand made" we seriously mean "Hand made! The Standard Collection is always being handmade with the utmost care.
Our specialized assets are bisque reliefs and partly glazed items. The "bisque" part is hand polished with diamond pads which gives it an extremely smooth feel and is repellent to food processed residue. They are much admired for their superior design, finish and extreme durability.
To emphasize on the durability and quality of our wonderful objects we will offer you a 2 year guarantee for chipping the edges.
For professional users same conditions and we like to advise those interested to call/ contact olaf@olafstevens.com
For more info regarding Hautscouverts please take a look at www.hautscouverts.com
Be invited and enjoy!
Luxeporselein is an initiative of Studio Olaf Stevens
company information:
Studio Olaf Stevens® / Hautscouverts®
Chamber of Commerce #: 23066197
VAT #: NL001514901B90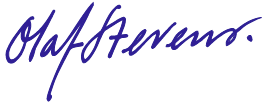 Luxeporselein is een exclusieve On-Line catalogus.
Een catalogus die het mogelijk maakt om nu ook U in de gelegenheid te stellen de zeer exclusieve handgemaakte HautsCouverts® collectie online te bekijken en eventueel per email te bestellen.
Studio Olaf Stevens maakt het handgemaakte porselein in een prachtig porselein atelier in Limoges.
Dit atelier houdt het midden tussen een "atelier" en een kleine fabriek.
Voor degene die Tichelaar in Makkum kennen is dit de best mogelijke vergelijking met dezelfde eeuwen oude traditie , vakmanschap en technologische ontwikkeling met dat verschil dat het hier om de hoogst mogelijk kwaliteit in porselein betreft nl. , zoals de Fransen het noemen, het Porcelain Dur.
Een exclusieve karakter van deze ontwerpen is dat het een reliëf heeft, gedeeltelijk is geglazuurd en voor het grootste deel ongeglazuurd is. Dit ongeglazuurde deel wordt met diamand gepolijst waar door het zeer zacht aanvoelt, en zoals glazuur, geen vat heeft op intens kleurende ingrediënten Het materiaal is extreem hard en blijft daar door ook veel langer warm waardoor het dienstbaar is aan de keuken.
Om deze kwaliteit kracht bij te zetten geven we 2 jaar garantie op chippen van de randen.
Voor professionele gebruikers gelden exact dezelfde condities en willen hen adviseren eerst contact met ons op te nemen.
Voor meer informatie over HautsCouverts® kijkt u op www.olafstevens.com/hautscouverts
veel plezier en genoegen met het bekijken van de catalogus.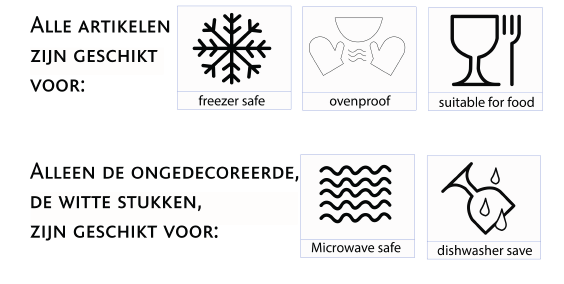 Shipment and delivery: For Terms & Conditions click here
Luxeporselein is een exclusieve ON-Line catalogus.
Een catalogus die het mogelijk maakt om nu ook u in de gelegenheid te stellen deze zeer exclusieve handgemaakte HautsCouverts® collectie online te zien en eventueel via email te bestellen.
De HautsCouverts® is een, in oplage zeer gelimiteerde, serie hand gemaakte table top items en is exclusief verkrijgbaar op locatie Gorinchem en via deze webshop. Het is Limoges Porselein van de hoogst haalbare kwaliteit Porcelain dur (1400ºC). Lees meer op de informatiepagina
Een kunstproject van Olaf Stevens
Verzending en bezorging: klik hier voor de algemene leveringsvoorwaarden.
Bedrijfsinformatie:
Studio Olaf Stevens
K.v.K nummer: 23066197
btw nummer: NL001514901B90