Blue de Four
Contemporary visual music in the classical 18th century line.
Limoges Veritable Bleu De Four Cobalt Blue Porcelain by Studio Olaf Stevens
The kiln technique called "blue" was first used in 1770. Known as "Bleu du ROY", it recalls legendary Limoges expertise. The technique relies on adding a considerable amount of cobalt oxide to the transparent high temperature glaze.
The piece acquires a pure shiny transparent glaze after it has been immersed in a glaze bath before being fired at a high temperature (1400˚C). The result is a deep, hypnotic blue that oscillates between midnight blue, navy and indigo.
The 24-karat gold ornaments could then be deployed on this intense blue, either in monochrome with white, or on the full blue background, drawing their inspiration from antique motifs or from paintings of the 18th century, such as the gallant scenes of Fragonard, which were always very popular.
Today these decorations are executed in 24-karat fine gold, hand painted or in the case of complex hand drawings supported by silk-screen printing. The result you are experiencing with the piece you have acquired
This particular piece has been handmade in our much valued atelier in Limoges, France. Both shape and dessins are designed by Olaf Stevens.
The manual craftsmanship applies to all stages of the fabrication process, from modelling the shape and making the mould, to the high-quality porcelain slip-casting, the glazing, the 24 karat gold application and the final firing which has been done in a kiln only fit and used for blue de four pieces. To achieve such high quality and authenticity, we have extensively studied the 18th-century technique and have invested in material and equipment to bring this traditional technique back to live.
Our blue de Four pieces come with a numbered and personally signed certificate
We hope you will enjoy this carefully crafted 21 st century Blue de Four porcelain object being visual music to your eyes.
OLAF STEVENS
Datant du 18 e siècle, la technique du Bleu de Four fait appel à un savoir-faire légendaire de Limoges. Les pièces sont plongées dans un bain d'émail cobalt bleu puis cuites à grand feu. En conséquence, un bleu profond hypnotique en ressort, oscillant entre un bleu ultra-marin, un bleu marine et indigo et en objet spécial décoré d'or 24 carats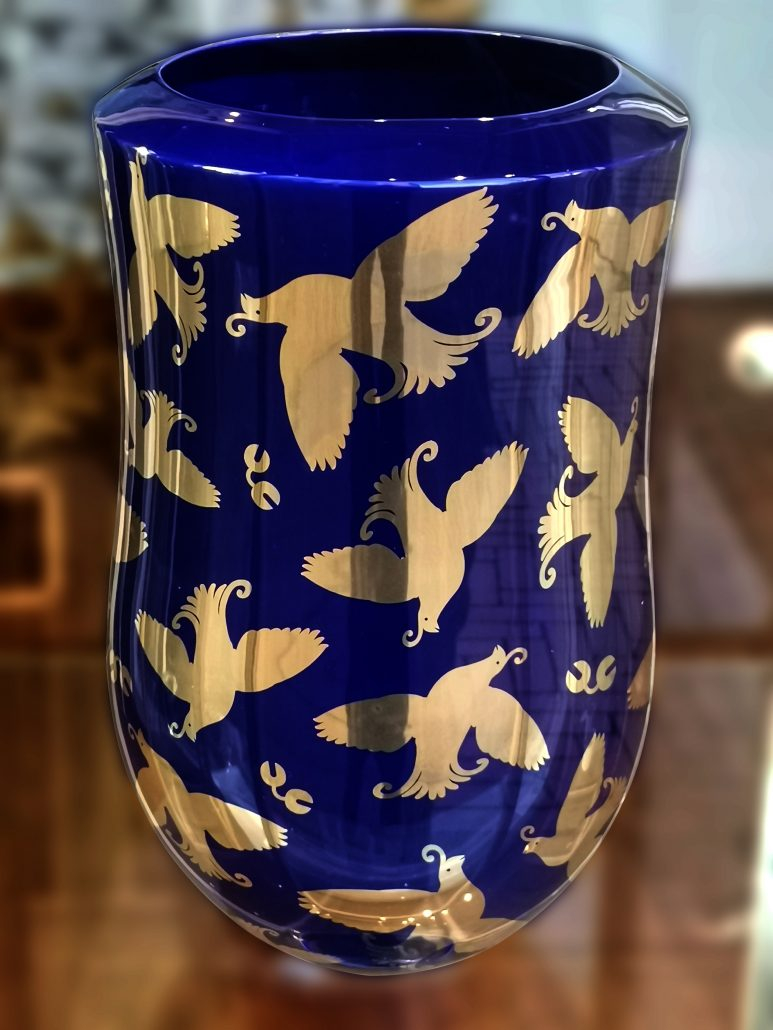 Our Vase in Blue de four and paradise birds in 24krt gold

You know what to do if you are interested. Thank you!